800 Grayside Avenue Phone: (608) 847-4410
Mauston, WI 53948 Fax: (608) 847-4802
Message from the Principal
On behalf of the students and staff at Mauston High School, I would like to welcome you to our school district and the 2014-2015 school year. I am very proud to live in a school district that supports its students the way ours does. We would love to have you visit our school and interact with our amazing staff and students.
Be Your Best!
Jim Dillin
Mauston High School Principal
Be Your Best...Win the Day...Be Unstoppable!!!
The following presentation was shared with MHS students and staff on the first day of school. It helps explain MHS Pride!
AP and Enrichment Opportunities for MHS Students
The resource below will define terminology, the conferencing model, offerings, the Laude System, and much, much more!
Mauston High School Community Musical

When: December 17th from 3:30-­5:00 and December 18th from 3:3-­5:00
Where: Mauston High School Auditorium
What to Bring: Prepare 1 minute of a song (you will need to bring your own accompaniment or sing a cappella).
Anyone wishing to audition for a lead should prepare and perform an audition side. (Found in the High School Office or on the school website) Please also bring a list of potential date conflicts from now through March 23rd.
Mrs. Jankowski's 2nd Block Class Declared Food Drive Champion!
Students from Mrs. Jankowski's class won rock, paper, scissors in a competition with Mrs. Luke's class to earn the title of overall food drive champion.
With everything added in (Walmart donation, donated weight, cash, sponsor donations, and Bank of Mauston match) the total is 43,575 pounds. Here are the food totals over the past four years:
2013 - 29308
2012 - 37063
2011 - 31169
2010 - 25534
Thank you to all who supported this worthwhile drive including the students, staff, donors, sponsors, and community members.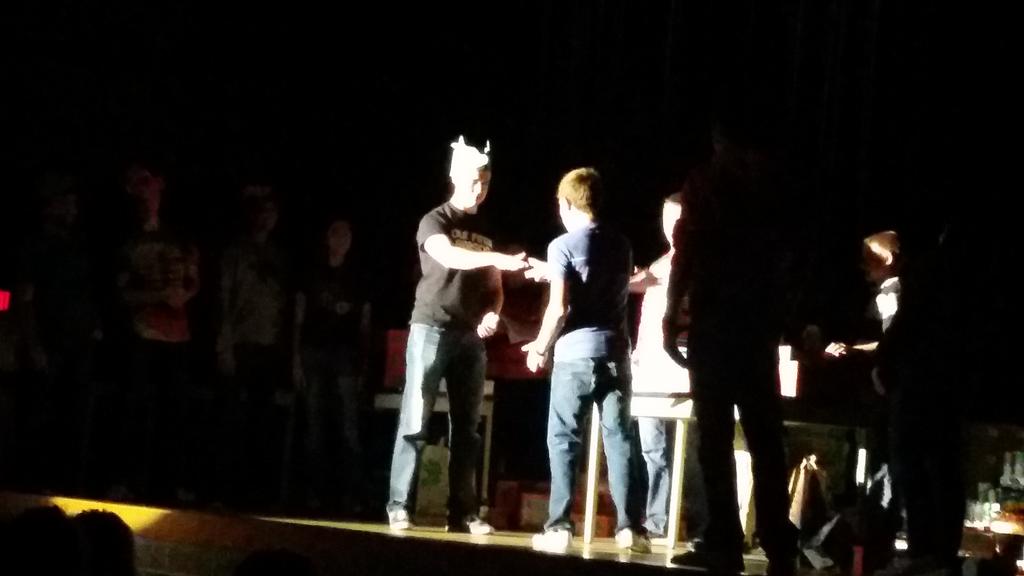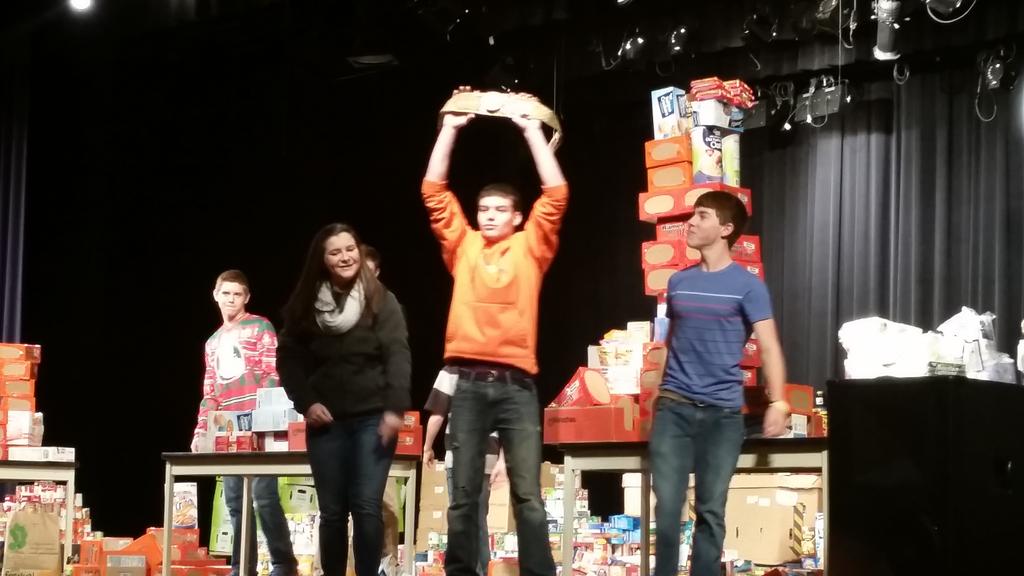 Winter Walking Hours
Need a warm place to walk? MHS is available for walking hours on school days from 6:30-7:30 am and 3:45-5:00 pm.
Stay Connected with MHS via Social Media
School District of Mauston
Mauston Golden Eagles
Mauston Athletics
Mauston High School Arts
Mauston High School Football
Mauston High School Baseball (WI)
Mauston Public Pool
Twitter Accounts
Mauston High School @mhsgoldeneagles
Mauston High School Baseball @MaustonBaseball
Randy Gyllin (Athletics acct) @MaustonPride
Skyward Family Access
Skyward Family Access contains a vast amount of
information that you may be interested in. Our system is constantly growing and the MHS staff is working hard to maintain as up-to-date information as possible. Click on the link below to view a tutorial on how to access Skyward Family Access and what Skyward can do for you.
Great Stuff at MHS!
The following presentation was/is designed for parents of St. Patrick's and Gordon Olson Middle School students. However, there is plenty of information for anyone wanting to learn more about the academic opportunites, support and evaluation systems, and comparative standings of MHS vs. other high schools in our area.
Mauston High School Facts
Mauston High School was dedicated in 2001. With an enrollment of around 525 students, Mauston High School is the largest high school in Juneau County. The purpose of the Mauston High School is to ensure an atmosphere which is conducive to learning. It is necessary to balance carefully a student's individual rights with his or her responsibilities for good citizenship.
Mauston High School Provides:
* Quality, dedicated instructors
* Top-notch facilities (see link on the left)
* Hybrid block scheduling
* 270 full access computers dedicated for student use
* Smartboards in 95% of classrooms
* An extensive 21st Century library media center, with a multi-media collection of over 16,000 items used in integrating and enhancing the 9-12 curriculum
* Continuous career planning and "school to work" programs
* Extensive distance learning opportunities
* Virtual education opportunities
* Dual Credit and Advanced Placement Courses
* Freshmen English/Social Studies Academy
* Alternative learning academy for credit deficient and at-risk youth
* Emphasis on music and the arts
* One of Wisconsin's largest and most award winning FFA and FFA Alumni organizations
* A full complement of extra- and co-curricular activities
* Extensive community scholarship support for post-secondary education